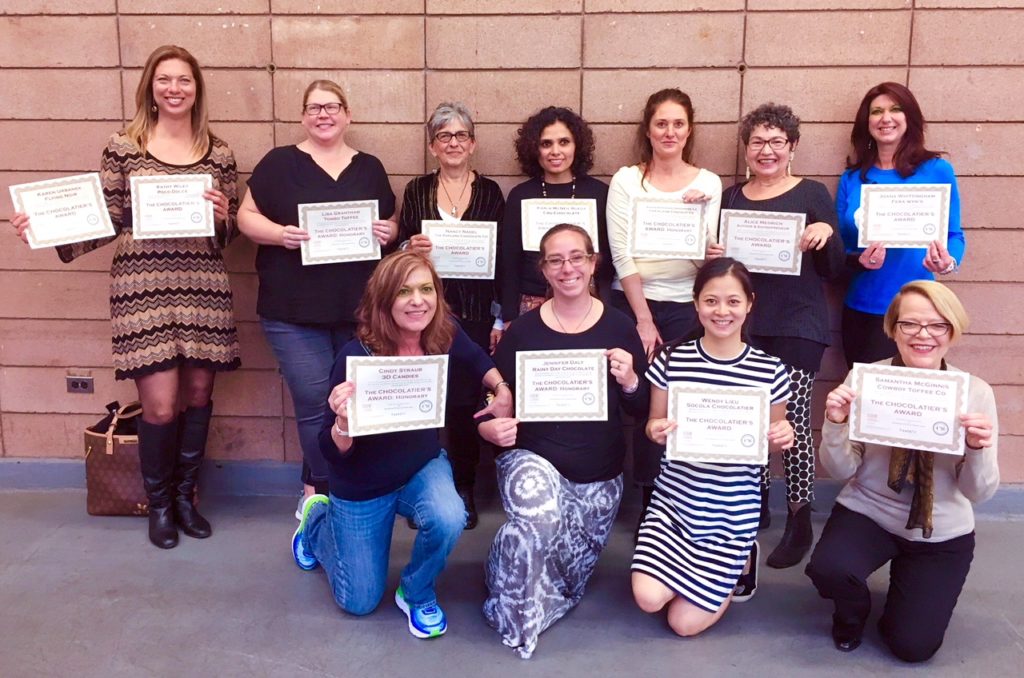 The International Chocolate Salon announced that it would honor Women in Chocolate, and presented several selected honorees with THE CHOCOLATIERS AWARD on March 11th at the San Francisco International Chocolate Salon.
THE CHOCOLATIERS AWARD
THE CHOCOLATIERS AWARD recipients are selected based on either having received numerous chocolate salon awards over the years, or having made a significant impact in the world of taste and chocolate, particularly in the San Francisco area. It also spotlights the growing number of women entrepreneurs, chocolatiers, confectioners, and pastry chefs that the San Francisco Bay Area and Northern California has supported.
The following are the announced recipients of the 2018
San Francisco Women in Chocolate: CHOCOLATIERS AWARD
Wendy Lieu, Socola Chocolatier
Jeri Vasquez, Kindred Cooks Caramels
Jessica Ferraro, Bar Cacao
Elyce Zahn, CocoTutti Chocolates
Mindy Fong, Jade Chocolates
Karen Urbanek, Flying Noir
Kathy Wiley, Poco Dolce
Samantha McGinnis, Cowboy Toffee Co.
Nancy Nadel, The Oakland Chocolate Company
Bridget Labus, Sixth Course Artisan Confections
Gianina Serrano, Sixth Course Artisan Confections
Christine Doerr, NeoCocoa
Joana Whittingham, Fera'wyn's
Alice Medrich, Author & Chocolate Entrepreneur
In addition, the following have been named for Honorable Mention
Lisa Grantham, Tombo Toffee
Jennifer Daly, Rainy Day Chocolate
Shannon Hughes Grochowski, La Chatelaine Chocolat Co.
Karen Bryant, Fine Chocolate Industry Association
Cindy Straub, 3D Candies
Karla McNeil-Rueda, Cru Chocolate
Brittany Maki, Starchild Chocolate
---
ABOUT THE SAN FRANCISCO INTERNATIONAL CHOCOLATE SALON
The original and premier chocolate show on the West Coast takes place this Spring at the 12th Annual San Francisco International CHOCOLATE SALON, March 11, 2018 in Golden Gate Park in the Hall of Flowers. Chocolate aficionados, fanatics, buyers and journalists can experience the finest in artisan, gourmet & premium chocolate in one of the world's great culinary metropolitan areas.
Featuring a delicious selection chosen and curated by the Organizers, the International CHOCOLATE SALON participants include master chocolatiers, confectioners, other culinary artisans such as Amano Artisan Chocolate,  Endorfin, Socola Chocolatier, Michael's Chocolates, Kindred Cooks Caramels, Basel B Inc, CocoTutti Chocolates, Z. Cioccolato, Fookie, MomYvonnne's Candy Co., Raphio Chocolate, William Dean Chocolates, La Chatelaine Chocolat Co., David Bacco Chocolatier, R & J Toffees, Cowboy Toffee Company, Rainy Day Chocolate, Fairytale Brownies, Snowflake Treats, The Good Chocolate, Flying Noir, Tombo Toffee, CACOCO, 3D Candies, SWEET55, The Cocoa Exchange, Dark Heart Chili Sauce, Farm Fresh To You, Be a Gourmet, Welk Resorts, Kids Cooking for Life, Tula in Bloom, PK Perfumes, International Culinary Center, and more. www.SFChocolateSalon.com